Dark comedy is a brilliant genre with great films to its name, films like Zombieland, Happy Death Day, and Shaun of the Dead. This type of comedy is certainly not for everyone but for those who like it, these films are pure gold as most of the fans of this genre would have already seen these films because these are the best dark comedy films there are. So, check out the 20 best dark comedy films ever made.
Birdman Or (The Unexpected Virtue Of Ignorance)
Synopsis: BIRDMAN or The Unexpected Virtue of Ignorance is a black comedy that tells the story of an actor (Michael Keaton) — famous for portraying an iconic superhero — as he struggles to mount a Broadway play. In the days leading up to opening night, he battles his ego and attempts to recover his family, his career, and himself.
Shaun of the Dead
Synopsis: Edgar Wright's SHAUN OF THE DEAD follows the bloody funny adventures of underachiever Shaun (Simon Pegg) and his best mate Ed (Nick Frost) as they cope with a zombie invasion of North London and attempt to rescue Shaun's girlfriend Liz (Kate Ashfield) and his Mum, Barbara (Penelope Wilton). Also starring Bill Nighy.
Beetlejuice
Synopsis: Michael Keaton, Academy Award winner Geena Davis, Alex Baldwin and Winona Ryder star in director Tim Burton's comic twist on supernatural horror tales–Beetlejuice. When a couple of nice, young homebody ghosts (Baldwin and Davis) try to haunt the pretentious humans who have moved into their house, they ask for help from a demonic wraith (Keaton) they cannot control in this comic fantasy that mixes the quick and the dead with a laugh and a fright.
American Psycho
Synopsis: Patrick Bateman (Christian Bale) is a wall street yuppie, obsessed with success, status, and style, with a stunning fiancée (Reese Witherspoon). He is also a psychotic killer who rapes, murders, and dismembers both strangers and acquaintances without provocation or purpose. Based on the controversial novel, the film offers a sharp satire to the dark side of yuppie culture in the '80s, while setting forth a vision that is both terrifying and chilling.
The Lobster
Synopsis: In this highly imaginative, delightfully absurdist comedy from visionary director Yorgos Lanthimos (Dogtooth), Colin Farrell stars as David, a man who has just been dumped by his wife. To make matters worse, David lives in a society where single people have 45 days to find true love, or else they are turned into the animal of their choice and released into the woods. David is kept at the mysterious HOTEL while he searches for a new partner, and after several romantic misadventures decides to make a daring escape to abandon this world. He ultimately joins up with a rebel faction known as The Loners, a group founded on a complete rejection of romance. But once there David meets an enigmatic stranger (Rachel Weisz) who stirs up unexpected and strong feelings within him. At once a full immersion into a strange and surreal world, and a witty and clever reflection of our own society, The Lobster is a thrillingly audacious vision fully brought to life by Lanthimos and his terrific cast.
Fear and Loathing in Las Vegas
Synopsis: When a writing assignment lands journalist Raoul Duke (Johnny Depp) and sidekick Dr. Gonzo (Benicio Del Toro) in Las Vegas, they decide to make it the ultimate business trip. But before long, business is forgotten and trip has become the key word. Fueled by a suitcase full of mind-bending pharmaceuticals, Duke and Gonzo set off on a fast and furious ride through nonstop neon, surreal surroundings and a crew of the craziest characters ever (including cameo appearances by Cameron Diaz, Christina Ricci, Gary Busey and many others). But no matter where misadventure leads them, Duke and Gonzo discover that sometimes going too far is the only way to go.
Jojo Rabbit
Synopsis: Acclaimed writer/director Taika Waititi brings his signature humor and pathos to Jojo Rabbit, a World War II satire that follows a lonely German boy (Roman Griffin Davis as Jojo) whose world view is turned upside down when he discovers his single mother (Scarlett Johansson) is hiding a young Jewish girl (Thomasin McKenzie) in their attic.
A Clockwork Orange
Synopsis: Being the adventures of a young man…who loved a bit of the old ultra-violence…went to jail, was brain washed…and came out cured…or was he? In a futuristic welfare state, Alex (Malcolm McDowell), a vicious young hoodlum, sleeps all day and spends his nights roaming the city with his droogs (friends), assaulting innocent people in the streets and in their homes. Finally captured by the police, Alex undergoes rehabilitation in the form of aversion therapy as brutal and horrifying as any of his offenses.
Dr. Strangelove Or: How I Learned To Stop Worrying And Love The Bomb
Synopsis: Nominated for four Academy Awards® including Best Picture (1964), Stanley Kubrick's black comedy about a group of paranoia-inspired, war-happy generals who manage to initiate an "accidental" nuclear apocalypse, is horribly frightening, delightfully funny and surprisingly relevant to this day. This is the saga of two psychotic generals: Joint Chief of Staff "Buck" Turgidson (George C. Scott) and Air Force Strategic Commander Jack Ripper (Sterling Hayden), who orders a bomber squadron to attack the USSR, triggering a Soviet secret weapon, the "Doomsday Machine", a diabolical retaliatory missile system. Peter Sellers portrays a trio of men who attempt to avert this catastrophe: British Captain Lionel Mandrake, the only person with access to paranoid Gen. Ripper; U.S. President Muffley, whose best attempt at diverting this disaster depends on convincing a boozed-up Soviet Premier it's all a silly mistake; and the President's advisor, Dr. Strangelove, a demented ex-Nazi scientist. Can any one of them possibly save the world?
Fargo
Synopsis: A reality-based crime drama set in Minnesota in 1987. Jerry Lundegaard (William H. Macy) is a car salesman in Minneapolis who has gotten himself into debt and is so desperate for money that he hires two thugs (Steve Buscemi), (Peter Stormare) to kidnap his own wife. Jerry will collect the ransom from her wealthy father (Harve Presnell), paying the thugs a small portion and keeping the rest to satisfy his debts. The scheme collapses when the thugs shoot a state trooper.
Kiss Kiss, Bang Bang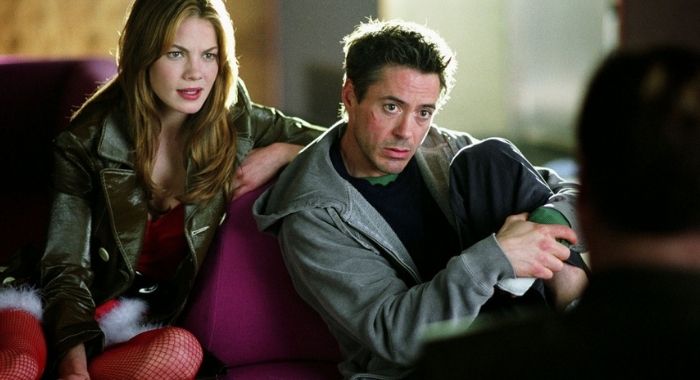 Synopsis: From producer Joel Silver and screenwriter Shane Black, both of Lethal Weapon fame comes an action-comedy spoof of rough-and-tumble buddy films–Kiss Kiss, Bang Bang. A private detective (Val Kilmer – Alexander), a thief posing as a struggling actor (Robert Downey Jr. – Gothika) and an actual struggling actress (Michelle Monaghan – The Bourne Supremacy) become entangled in a murder mystery filled with twists, turns, betrayal and, most importantly, romance
The Art of Self Defense
Synopsis: A dark comedy set in the world of karate. The film centers on Casey (Jesse Eisenberg), who is attacked at random on the street and enlists in a local dojo led by a charismatic and mysterious Sensei (Alessandro Nivola), in an effort to learn how to defend himself. What he uncovers is a sinister world of fraternity, violence and hypermasculinity and a woman (Imogen Poots) fighting for her place in it. Casey undertakes a journey, both frightening and darkly funny, that will place him squarely in the sights of his enigmatic new mentor.
After Hours
Synopsis: When an uptown New Yorker innocently meets a downtown girl, he's uncontrollably drawn into a vortex of wild, malevolent and paranoid adventures After Hours. Paul Hackett's (Griffin Dunne) terrible night happens in the SoHo area of downtown Manhattan when he goes to keep a date with Marcy (Rosanna Arquette). Nothing in his humdrum life as a word processor has prepared him for his surreal encounters with Marcy; her far-out artist roommate Kiki (Linda Fiorentino); cocktail waitress Julie (Teri Garr); ice cream vendor Gail (Catherine O'Hara); June (Verna Bloom), who lives in the basement of a nightclub; and Mark (Robert Plunket) who is ripe for his first gay experience. Now, Paul longs only for the safety of his upper-East Side apartment … but will he ever make it home?
Heathers
Synopsis: Westerburg High School's elite clique of popular girls is "The Heathers," comprised of the powerful Heather Chandler, the green-with-envy Heather Duke, and the cowardly Heather McNamara. Rounding out the foursome is Veronica Sawyer (Winona Ryder), who is so fed up with the Heathers and the entire peer pressure cooker that she starts running with J.D. (Christian Slater), a mysterious – and possibly psychotic – motorcycle-riding newcomer. But what begins as their noble effort to rid Westerburg of its bad apples ends up taking a real toll. And their teen rebellion produces a serious and mounting body count. Shannen Doherty co-stars in this cruelly hilarious dark comedy, which became one of the biggest cult classics of the '80s.
In The Loop
Synopsis: Britain and America; friends and allies as far back as anyone can remember. Both the US President and UK Prime Minister fancy a war but not everyone agrees including US Assistant Secretary for Diplomacy, US Army General (James Gandolfini) and a floundering British Minister Simon Foster (Tom Hollander). When Foster accidentally announces on national TV that war is unforeseeable, the British government is sent into a spiral of chaos and spin propagated by verbosely aggressive Director of Communications, Malcom Tucker (Peter Capaldi). Foster attempts to neutralise his unforeseeable comment by telling the British public to prepare to climb the mountain of conflict but soon finds himself bundled off to Washington on a fact-finder where he becomes both a pawn for the secret war committee and a poster-boy for the General and the Assistant Secretary for Diplomacys anti-war campaign.
Who's Afraid of Virginia Woolf?
Synopsis: Elizabeth Taylor delivers an Academy Award-winning performance opposite Richard Burton in this adaptation of Edward Albee's groundbreaking Broadway play that rips the façade of civility off the dysfunctional marriage between an alcoholic college professor and his shrew of a wife during a dinner party the two host for a young couple.
Parasite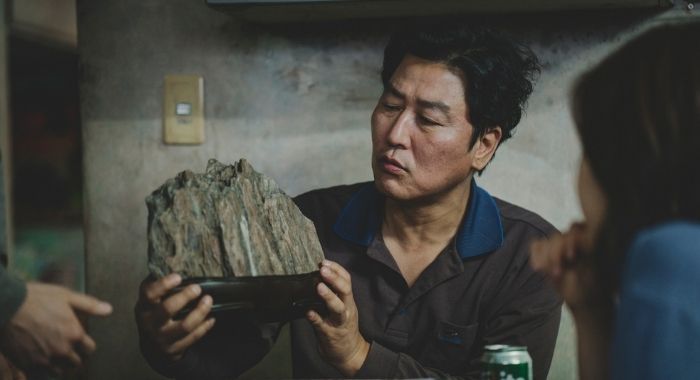 Synopsis: Ki-taek's family of four is close, but fully unemployed, with a bleak future ahead of them. The son Ki-woo is recommended by his friend, a student at a prestigious university, for a well-paid tutoring job, spawning hopes of a regular income. Carrying the expectations of all his family, Ki-woo heads to the Park family home for an interview. Arriving at the house of Mr. Park, the owner of a global IT firm, Ki-woo meets Yeon-kyo, the beautiful young lady of the house. But following this first meeting between the two families, an unstoppable string of mishaps lies in wait.
Kind Heart And Coronets
Synopsis: One of the Golden-Age Ealing comedies and a classic of British cinema, Kind Hearts & Coronets stars Dennis Price as Louis D'Ascoyne, the would-be Duke of Chalfront whose mother was disinherited by her noble family for marrying beneath her. When her dying wish to be buried in the family crypt is refused, Louis vows to avenge his mother whilst at the same time gaining himself the title of Duke, by engaging in the gentle art of murder, killing off one by one each of the eight successors to the title – all unforgettably played by Alec Guinness.
To Be Or Not To Be (1942)
Synopsis: In Warsaw at the beginning of WWII, a wife and her husband perform anti-Nazi plays with their theater troupe until they are forced to switch to Shakespeare's "Hamlet."
The Death Of Stalin
Synopsis: When tyrannical dictator Joseph Stalin dies in 1953, his parasitic cronies square off in a frantic power struggle to become the next Soviet leader. Among the contenders are the dweebish Georgy Malenkov, the wily Nikita Khrushchev and Lavrenti Beria, the sadistic secret police chief. As they bumble, brawl and back-stab their way to the top, the question remains, just who is running the government?