Hulu has one of the greatest TV show libraries in all of the streaming services, it has something for everyone, from comedy shows to thrillers and from sci-fi shows to horror, so today we are going to list the best comedy TV shows on Hulu you can watch right now.
So, here are the best comedy TV shows streaming on Hulu right now:
Community
Synopsis: Disbarred lawyer Jeff Winger enrolls in a local community college. While there, he forms a study group who eventually learn more about themselves than their course work.
PEN15
Synopsis: PEN15 is middle school as it really happened. Maya Erskine and Anna Konkle star in this adult comedy, playing versions of themselves as thirteen-year-old outcasts in the year 2000, surrounded by actual thirteen-year-olds, where the best day of your life can turn into your worst with the stroke of a gel pen.
What We Do In the Shadows
Synopsis: A look into the daily lives of four vampires who've been together for hundreds of years; after a visit from their dark lord and leader, they're reminded of their purpose in coming to New York City over a century ago.
30 Rock
Synopsis: The life of the head writer at a late-night television variety show. From the creator and stars of SNL comes this workplace comedy. A brash network executive bullies head writer Liz Lemon into hiring an unstable movie star. A self-obsessed celeb, an arrogant boss, and a sensitive writing staff challenge Lemon to run a successful program — without losing her mind.
Fresh Off the Boat
Synopsis: It's the '90s and 12 year old, hip-hop loving Eddie just moved to suburban Orlando from DC's Chinatown with his parents. It's culture shock for his immigrant family in this comedy about pursuing the American Dream.
Bob's Burgers
Synopsis: Bob runs Bob's Burgers with the help of his wife and their three kids. Business may be slow, but they never give up hope.
Archer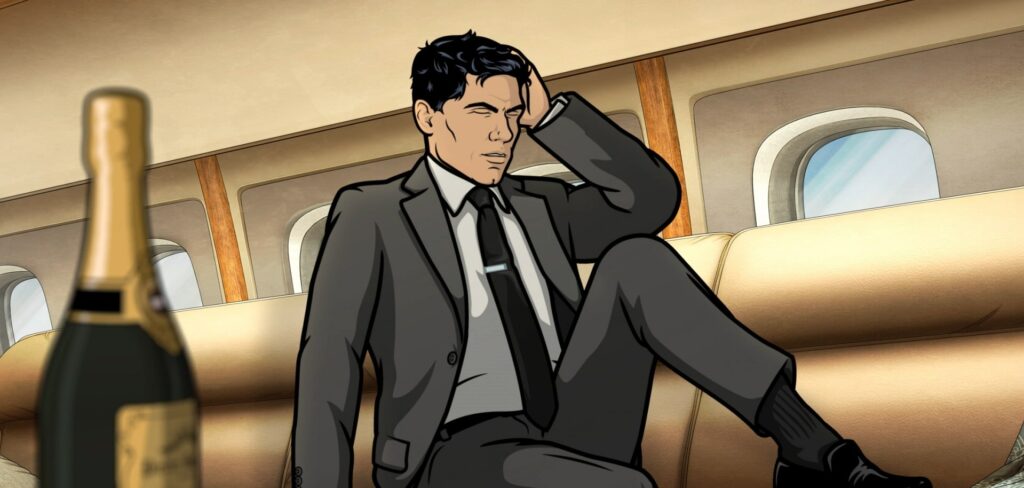 Synopsis: The suave, confident and devastatingly handsome Sterling Archer may be the world's greatest spy, but he still has issues with his friends and colleagues who live to undermine and betray one another. Whether set in 1940s Los Angeles, the jungles of South America or the dangerous islands of the South Pacific, "Archer," this animated comedy spans time and place to navigate Sterling, Lana, Malory, Cheryl/Carol/Charlotte, Cyril, Pam, Ray and Krieger's misguided misadventures that range from attempting to save the world from nuclear disaster to selling illegal narcotics to Colombian cartels.
Man Seeking Woman
Synopsis: A sweet and surreal look at the life-and-death stakes of dating, Man Seeking Woman follows naïve twenty-something "Josh Greenberg" (Jay Baruchel, How to Train Your Dragon) on his unrelenting quest for love. Josh soldiers through one-night stands, painful break-ups, a blind date with a troll, time travel, sex aliens, many deaths and a Japanese penis monster named Tanaka on his fantastical journey to find love. Starring alongside Baruchel are Eric Andre (The Eric Andre Show) as "Mike," Josh's confident and daring best friend; Britt Lower (Unforgettable) as "Liz," Josh's intimidating older sister; and Maya Erskine (Betas) as "Maggie," the ex-girlfriend Josh can never quite forget. Man Seeking Woman is based on Simon Rich's book of short stories, The Last Girlfriend on Earth. Rich created the 10-episode scripted comedy and also serves as Executive Producer/Showrunner. Jonathan Krisel, Andrew Singer and Lorne Michaels, and Broadway Video also serve as Executive Producers. Man Seeking Woman is produced by FX Productions.
It's Always Sunny in Philadelphia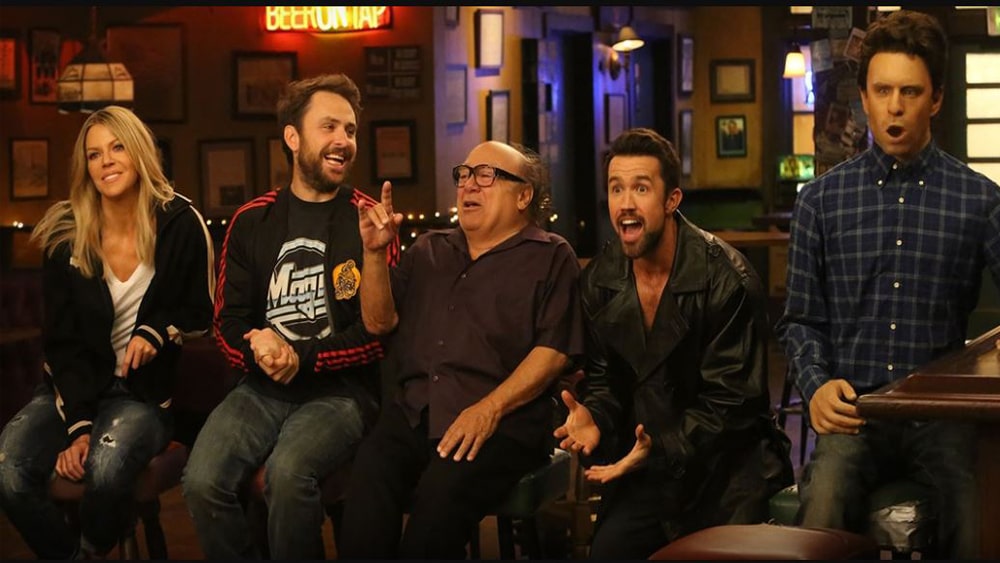 Synopsis: It's Always Sunny in Philadelphia features Mac, Dennis, Charlie, Sweet Dee and Frank, five ne'er-do-wells who own and operate Paddy's Pub in Philadelphia. Their constant scheming usually lands them in a world of hurt, yet they never seem to learn from their mistakes. As they say, some things never change. So prepare for more depraved schemes, half-baked arguments, and absurdly underhanded plots to subvert one another.
Shrill
Synopsis: From Executive Producers Lorne Michaels and Elizabeth Banks comes Shrill, a comedy series starring Aidy Bryant (Saturday Night Live) as Annie, a fat young woman who wants to change her life — but not her body. Annie is trying to start her career while juggling bad boyfriends, a sick parent, and a perfectionist boss.
The Office (UK)
Synopsis: The Office is a scathing satire of corporate life – full of backfiring practical jokes, failed flirting and all around bad behavior. Starring Ricky Gervais and Martin Freeman, this mockumentary series is one of the most renowned comedies of all time.
Lodge 49
Synopsis: A light-hearted, modern-day fable about a disarmingly optimistic local ex-surfer, Dud.
Kay and Peele
Synopsis: Tired of watching just one comedian at a time? Get a pair. Catch sketch comedy masters and best friends Keegan-Michael Key and Jordan Peele for a half hour of irreverent wit, pop-culture impressions and escalating absurdity.
Rick and Morty
Synopsis: Rick and Morty is a show about a sociopathic scientist who drags his unintelligent grandson on insanely dangerous adventures across the universe. Created and executive produced by Dan Harmon (Community, Channel 101) and Justin Roiland (House of Cosbys).
Atlanta
Synopsis: Two cousins work through the Atlanta music scene in order to better their lives and the lives of their families. Donald Glover serves as Executive Producer, along with Paul Simms, Dianne McGunigle and Stephen Glover.
Black-ish
Synopsis: "black-ish" takes a fun yet bold look at one man's determination to establish a sense of cultural identity for his family with comedic stories that shine a light on current events through the lens of the Johnson family.
Futurama
Synopsis: While delivering pizza on New Year's Eve 1999, Philip J. Fry is accidentally cryonically frozen and thawed out one thousand years into the future. From the creator of "The Simpsons," "Futurama" is a sci-fi animated comedy.
The Last Man on Earth
Synopsis: The year is 2020, and after a deadly virus has swept the planet, only one man is left on earth: Phil Miller (Will Forte). He used to be just an average guy who loved his family and hated his job. Now, in his RV, Phil searches the country for other survivors. He has traveled to every city, every town and every outpost in the United States, Mexico and Canada, and has found no one. As he returns to his hometown of Tucson, Phil comes to the painful realization that he is almost certainly the last living being on the face of the earth. All he wants is for someone – anyone – to find him in Tucson – preferably a woman.
Frasier
Synopsis: Comedy series set in Seattle, WA, which chronicles the lives of an eloquently pompous radio show host Dr. Frasier Crane (Kelsey Grammer), his brazen radio producer Roz (Peri Gilpin), his competitive, high-brow brother Niles (David Hyde Pierce), their crotchety father Martin (John Mahoney) and his quirky live-in nurse Daphne (Jane Leeves).
Better Things
Synopsis: Award-winning FX comedy series Better Things centers on a single mom and actress trying to raise her three daughters in Los Angeles.
Future Man
Synopsis: Future Man stars Josh Hutcherson (The Hunger Games) as "Josh Futturman," a janitor by day/gamer by night who is recruited by mysterious visitors to travel through time in order to prevent the extinction of humanity.
Absolutely Fabulous
Synopsis: Synopsis: Jennifer Saunders leads an all-star cast as the outrageous, fashion-obsessed Edina in this multi award-winning comedy. Life would be one long party, if only Edina's nerdy daughter Saffron would stop complaining and start joining in like a normal teenager.
Adventure Time
Synopsis: It's one crazy adventure after another for human boy, Finn, and his best friend, Jake, a 28-year old dog with magical powers. They're out to have the most fun possible and they sure do find it exploring the Land of Ooo! Whether it's saving Princess Bubblegum, battling zombie candy, taunting the Ice King or rocking out with Marceline the Vampire Queen, with Finn and Jake it's always ADVENTURE TIME!
Don't Trust the B in a Apartment 23
Synopsis: After a naive Midwestern girl's big city dreams are dashed her first week in New York, she finds herself living with her worst nightmare in this hilarious, contemporary comedy about a female odd couple who are surrounded by outrageous characters.
Brooklyn Nine-Nine
Synopsis: An ensemble comedy about a talented-but-carefree detective, a by-the-book police captain and their precinct colleagues. While based in the workplace, the series is not really about the job – it's about the men and women behind the badge.
Baskets
Synopsis: Baskets, a new comedy co-created by and starring Zach Galifianakis, is centered around Chip Baskets (Galifianakis) who wants to follow his dream of being a French clown however, reality keeps interfering. Saddled with financial difficulties and facing an impenetrable language barrier, he moves back home to Bakersfield with high hopes. There, he is forced to confront his past while working as a rodeo clown and competing with his siblings for his mother's approval and affection. The series is produced by FX Productions.
Arrested Development
Synopsis: In this critically acclaimed series, Michael Bluth is forced to help his wildly eccentric family pick up the pieces after its wealthy patriarch is arrested and its assets frozen.
Scrubs
Synopsis: ABC's Scrubs examines the lives of the staff at Sacred Heart. In this unpredictable hospital filled with over-the-top staffers and patients, doctors have learned to survive by relying on each other to face relationships, death, kids, interns, water balloons, and anything else life may throw at them. Around here, humor and tragedy collide as they continually learn that even when you figure out who you are, there's still more life to navigate and it helps to have good people in your corner…even if they are a bit scattered themselves.
---
This concludes the list of the best comedy TV shows on Hulu right now. So, if you have watched them tell us in the comments and we will make a new list for you, and if you haven't what are you waiting for.
You can Subscribe to our Newsstand on Google News, Click the below Button
Subscribe Now