HBO Max has one of the greatest TV show libraries in all of the streaming services, it has something for everyone, from comedy shows to thrillers and from sci-fi shows to horror, so today we are going to list the best comedy TV shows on HBO Max you can watch right now.
So, here are the best comedy TV shows streaming on HBO Max right now:
Barry
Synopsis: A dark comedy starring Bill Hader ("Saturday Night Live"), who created and executive produced the series along with Alec Berg (HBO's "Silicon Valley"), Barry focuses on a depressed, low-rent hitman from the Midwest (Hader, in the title role) who falls in love with acting while on a job in LA. The supporting cast features Stephen Root, Henry Winkler and Sarah Goldberg.
The Righteous Gemstones
Synopsis: From the creative team behind "Vice Principals" and "Eastbound and Down" comes a comedy series about a celebrity televangelist family behind a big-money megachurch. Danny McBride stars as Jesse Gemstone, the eldest of three grown children, who receives a blackmail video that could put his reputation at risk. Edi Patterson, Adam Devine and John Goodman co-star.
The Chris Gethard Show
Synopsis: Chris Gethard hosts a quirky variety show with a panel of guests and calls from viewers.
A Black Lady Sketch Show
Synopsis: Comedian/actor/writer Robin Thede created and stars in this half-hour sketch comedy series featuring a core cast of four women–Thede, Quinta Brunson, Ashley Nicole Black and Gabrielle Dennis–as they portray an array of dynamic and varied characters, as well as hyper-versions of themselves in interstitials featuring four friends stuck in a house after an apocalypse.
Curb Your Enthusiasm
Synopsis: Larry David has it all–so why does he seem intent on making a mess of his life? Larry David stars as…Larry David in this acclaimed verite-style comedy series that follows him at home, at work and around town, as he lands himself in various predicaments with both fictional and real-life personalities. Jeff Garlin and Cheryl Hines co-star.
Friends
Synopsis: Six young people, on their own and struggling to survive in the real world, find the companionship, comfort and support they get from each other to be the perfect antidote to the pressures of life.
The Big Bang Theory
Synopsis: Mensa-fied best friends and roommates Leonard and Sheldon, physicists who work at the California Institute of Technology, may be able to tell everybody more than they want to know about quantum physics but getting through most basic social situations, especially ones involving women, totally baffles them. How lucky, then waitress but aspiring actress Penny moves in next door. Frequently seen hanging out with Leonard and Sheldon are friends and fellow Caltech scientists Wolowitz and Koothrappali. Will worlds collide? Does Einstein theorize in the woods?
Young Sheldon
Synopsis: It's 1989 and 9-year-old Sheldon Cooper has skipped four grades to start high school along with his less-intellectual older brother. As he struggles to be understood by his family, classmates and neighbors, his mother arms him with the best tool she can come up with: reminding bullies his dad is the football coach and his brother is on the team. His twin sister doesn't share his exceptional mind, but she has a much clearer vision of what life has in store for the young genius.
High Maintenance
Synopsis: To his clients, he is simply known as 'The Guy,' a nameless, bike-riding pot-delivery man who brings viewers into the homes and routines of a variety of NYC characters, each with a different compelling reason for doing business with him. Ben Sinclair stars as 'The Guy' in this comedy series based on his web series with Katja Blichfeld.
The Office (UK)
Synopsis: At a paper company in the heart of middle England, David Brent is a lower-middle-ranking manager in charge of a lower-middle-ranking office. His workplace is the antithesis of TV's glossy law firms full of bright professionals. Instead of mutual respect and intelligent dialogue, David's office is a place of backfiring practical jokes, failed flirting and bad showing off. He struggles to keep control of his workforce – including army-obsessed Gareth, sarcastic Tim and middle-aged Malcolm who silently works all day.
Insecure
Synopsis: Created by and starring Issa Rae, this comedy series looks at the friendship of two modern-day black women, as well as all of their uncomfortable experiences and racy tribulations. As they navigate the tricky professional and personal terrain of Los Angeles, best friends Issa (Rae) and Molly (Yvonne Orji) face the challenges of being black women who defy all stereotypes.
The Fresh Prince of Bel-Air
Synopsis: Will's mom sends him away from his rough Philadelphia neighborhood to live with wealthy Uncle Phil and Aunt Vivian in Bel-Air. Will often has fun at the expense of stuck-up cousins Carlton and Hilary.
2 Dope Queens
Synopsis: No subject is off limits for Jessica Williams and Phoebe Robinson — hosts and stars of the hit comedy podcast 2 Dope Queens — as they bring their hilarious insights and laugh-out-loud banter to HBO for this series of specials. The first series is directed by Tig Notaro and the second series is directed by Sandra Restrepo.
Garfunkel and Oates
Synopsis: Enjoy the edgy escapades of a musical comedy duo in this comedy series.
At Home with Amy Sedaris
Synopsis: Amy Sedaris applies her distinctive brand of silliness to a mash-up of hospitality, variety and talk show formats showcasing her diverse homemaking skills.
Flight of the Concords
Synopsis: A New Zealand folk-parody duo move to New York's East Village to conquer America, one fan (literally) at a time in this comedy series.
Search Party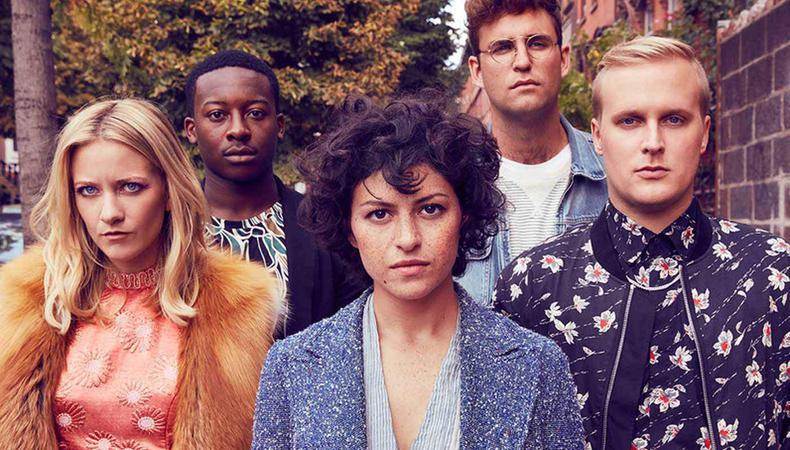 Synopsis: Search Party finds a group of narcissistic millennials at a hilariously dark crossroads after their friend Dory (Alia Shawkat) becomes obsessed with tracking down a missing college acquaintance. The first three seasons follow Dory as she ropes her boyfriend Drew (John Reynolds) and best friends Elliott (John Early) and Portia (Meredith Hagner) into a messy private investigation, semi-accidental murder, absurd cover-up, and sensational trial. Now, Season 4 finds the gang deciding whether to put their sordid pasts behind them and once again become a search party – but this time, for one of their own.
Rick and Morty
Synopsis: After having been missing for nearly 20 years, Rick Sanchez suddenly arrives at daughter Beth's doorstep to move in with her and her family. Although Beth welcomes Rick into her home, her husband, Jerry, isn't as happy about the family reunion. Jerry is concerned about Rick, a sociopathic scientist, using the garage as his personal laboratory. In the lab, Rick works on a number of sci-fi gadgets, some of which could be considered dangerous. But that's not all Rick does that concerns Jerry. He also goes on adventures across the universe that often involve his grandchildren, Morty and Summer.
Miracle Workers
Synopsis: Miracle Workers is a Heaven-set workplace comedy based on Simon Rich's book What in God's Name. Radcliffe plays Craig, a low-level angel responsible for handling all of humanity's prayers, and Steve Buscemi plays Craig's boss God, who has pretty much checked out and is ready to move on to his next project. To prevent Earth's destruction, Craig and fellow angel Eliza must answer a seemingly impossible prayer: help two humans fall in love. Karan Soni plays Sanjay, God's right-hand man.
Mr. Show
Synopsis: Prepare for comedy that is fast, funny and completely out of control! This innovative HBO comedy series stars Bob Odenkirk and David Cross and other performers portraying a dizzying number of loosely connected characters in a montage of fabulously offbeat, out-of-kilter sketches.
Veep
Synopsis: Julia Louis-Dreyfus is the Vice President of the United States in this hilarious HBO comedy series. Each episode follows her whirlwind day-to-day existence as she puts out political fires, juggles public and private demands and defends the interests of the chief executive–with whom she shares a uniquely dysfunctional relationship.
Awkwafina is Nora From Queens
Synopsis: Awkwafina stars as Nora Lin in this series based on her life in Queens, NYC. Raised alongside her cousin by her dad and grandma, Nora leans on her family as she navigates young adulthood.
Bored to Death
Synopsis: Meet Jonathan Ames: writer, romantic, unlicensed private eye. HBO presents this comedy series that tells the story of this noir-fiction-obsessed writer (playe by Jason Schwartzman) who impulsively lists his gumshoe services on Craigslist…and is surprisingly hired for a variety of amusing cases.
---
This concludes the list of the best comedy TV shows on HBO Max right now. So, if you have watched them tell us in the comments and we will make a new list for you, and if you haven't what are you waiting for.