Japanese Animation has become a major influence on western animation and contemporary cinema, because of its brilliant storytelling and beautiful look. Anime is not bounded anymore only to Japan, because it has earned fans worldwide with thousands adding themselves to the list every day. Netflix is home to many great anime series and today we are going to sort out the best anime series on Netflix you can watch right now in August 2021.
Castlevania
Synopsis: A vampire hunter fights to save a besieged city from an army of otherworldly beasts controlled by Dracula himself. Inspired by the classic video games.
AJIN: Demi-Human
Synopsis: A teenager discovers that he is an Ajin and flees before the authorities experiment on him. Other Ajin plan to fight back and he must choose a side.
Death Note
Synopsis: When a Japanese high schooler comes into possession of a mystical notebook, he finds he has the power to kill anybody whose name he enters in it.
Hunter x Hunter
Synopsis: To fulfill his dreams of becoming a legendary Hunter like his dad, a young boy must pass a rigorous examination and find his missing father.
Haikyu!!
Synopsis: Inspired by a championship match he sees on TV, junior high schooler Hinata joins a volleyball club and begins training, despite his short height.
Sword Art Online
Synopsis: A video game whiz helps create a new technology that enables players to guide their online avatars with their own bodies — but a dark twist emerges.
Devilman: Crybaby
Synopsis: With demons reawakened and humanity in turmoil, a sensitive demon-boy is led into a brutal, degenerate war against evil by his mysterious friend, Ryo.
Food Wars!
Synopsis: Young chef Soma enters the prestigious Totsuki Culinary Academy, where he must emerge victorious in over-the-top cooking battles or face expulsion.
Demon Slayer: Kimetzu no Yaiba
Synopsis: After a demon attack leaves his family slain and his sister cursed, Tanjiro embarks upon a perilous journey to find a cure and avenge those he's lost.
DOTA: Dragon's Blood
Synopsis: A conflicted yet courageous Dragon Knight must use the power of the dragon within to stop a deadly demon in this epic fantasy based on the online game.
Great Pretender
Synopsis: Supposedly Japan's greatest swindler, Makoto Edamura gets more than he bargained for when he tries to con Laurent Thierry, a real world-class crook.
B: The Beginning
Synopsis: Genius investigator Keith Flick rejoins the royal police force just as serial killer "B" emerges. Mysterious youth Koku may be an ally, or a target.
Trese
Synopsis: In Manila, where dark supernatural forces pervade the criminal underworld, it's up to Alexandra Trese to keep the peace — but there's a storm brewing.
Fullmetal Alchemist: Brotherhood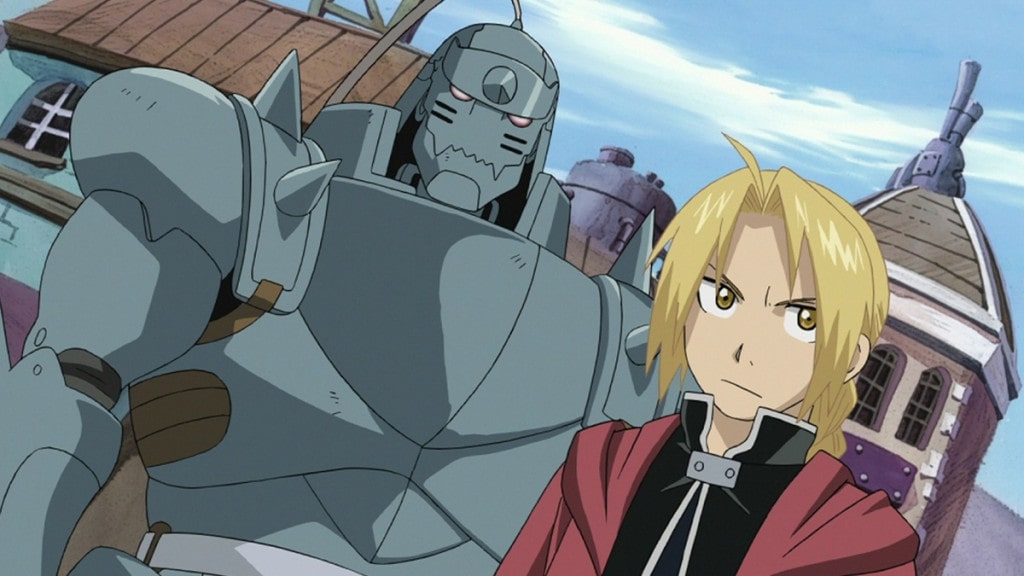 Synopsis: After both suffer physical damage — brothers Edward and Alphonse battle nefarious forces to try to reclaim their bodies in this supernatural anime.
No Game No Life
Synopsis: Legendary gamer siblings Sora and Shiro are transported to a world where life is a series of games and humanity is in grave danger of extinction.
Neon Genesis Evangelion
Synopsis: Fifteen years after the Second Impact, Shinji Ikari joins his father's group NERV as one of several teenage mecha pilots fighting the monstrous Angels.
One-Punch Man
Synopsis: The most powerful superhero in the world can kill anyone with one blow. But nothing can challenge him, so he struggles with ennui and depression.
Yasuke
Synopsis: A peaceful boatman once known as the Black Samurai is pulled back into conflict when he takes a little girl with mysterious powers under his wing.
Aggretsuko
Synopsis: Frustrated with her thankless office job, Retsuko the Red Panda copes with her daily struggles by belting out death metal karaoke after work.
High-Rise Invasion
Synopsis: High schooler Yuri finds herself atop a skyscraper in a strange world, where she must survive against masked assailants bent on killing their prey.
---
This concludes the list of the best anime series on Netflix right now. So, if you have watched them tell us in the comments and we will make a new list for you, and if you haven't what are you waiting for.