Amanda Seyfried is one of the most talented and beautiful actresses working in Hollywood right now. The American actress made her debut with the brilliant 2004 comedy film Mean Girls. She is currently starring opposite Tom Holland in an Apple TV+ drama series titled The Crowded Room. So, if you also love Seyfried's performances here are the best movies and shows starring Amanda Seyfried you should check out.
13. A Million Ways to Die in the West (Rent on Prime Video)
Synopsis: This hilarious comedy from Seth MacFarlane, the creator of Family Guy and Ted, is filled with witty one-liners and an all-star cast. When Albert (MacFarlane) loses his girlfriend (Amanda Seyfried) to his moustached nemesis (Neil Patrick Harris), a mysterious and beautiful woman (Charlize Theron) rides into town and turns his luck around. But when her notorious outlaw husband (Liam Neeson) arrives seeking revenge, Albert must put his newfound courage to the test. Also starring the outrageous Giovanni Ribisi and Sarah Silverman.
Synopsis: Everyone's favorite foulmouthed teddy bear is back for a second round of hilarious antics and outrageous adventures. When Ted (voiced by Family Guy creator Seth MacFarlane) is declared property by the Commonwealth of Massachusetts, Ted and his best friend John (Mark Wahlberg, Transformers: Age of Extinction, The Other Guys) must go to court to fight for Ted's personhood. With the help of their smart, beautiful (and pot-loving) lawyer (Amanda Seyfried, Mamma Mia!, Les Misérables), the thunder buddies for life battle to legalize Ted in this "wickedly funny"* sequel that will keep fans laughing right up to the very end. *LOS ANGELES TIMES
11. A Mouthful of Air (Starz)
Synopsis: Julie Davis, warm, kind, loving to her husband and child, is a bestselling children's author. While her books deal with unlocking childhood fears, she has yet to unlock the dark secret that has haunted her own life. But when her second child is born, events occur that bring that secret to the fore, and with it, a crushing, powerful battle to survive.
10. Jennifer's Body (Max)
Synopsis: Sexy temptress Megan Fox is hotter than hell as Jennifer, a gorgeous, seductive cheerleader who takes evil to a whole new level after she's possessed by a sinister demon. Steamy action and gore galore ensue as the male student body succumbs to Jennifer's insatiable appetite for human flesh. Now it's up to her best friend (Amanda Seyfried) to stop Jennifer's reign of terror before it's too late!
Synopsis: Sophie has just one wish to make her wedding perfect: to have her father walk her down the aisle. Now she just has to find out who he is… Join the music, laughter and fun of the irresistibly charming Mamma Mia! The Movie. Academy Award-winner Meryl Streep leads an all-star cast, including Pierce Brosnan and Colin Firth – as well as up-andcomers Amanda Seyfried and Dominic Cooper, in this musical celebration of mothers, daughters and fathers, and true loves lost and new ones found. Based on the Broadway smash-hit and filled with the ABBA songs you know and love, it's the feel-good experience that will have you singing and dancing over and over again.
Synopsis: Join the celebration, sing and dance, and discover how it all began! Ten years after Mamma Mia! The Movie premiered, you're invited back to the magical Greek island of Kalokairi in an all-new musical sequel based on the songs of ABBA. Sophie (Amanda Seyfried) is now pregnant, and like her mother Donna (Meryl Streep), she'll need to take risks. The film's original cast returns, with new additions including Lily James as a young Donna, Andy Garcia and Oscar® winner Cher.
7. The Crowded Room (Apple TV+)
Synopsis: Starring and executive produced by Tom Holland, "The Crowded Room" is a gripping, 10-episode limited series that stars Holland as Danny Sullivan, a man who is arrested following his involvement in a shooting in New York City in 1979. A captivating thriller told through a series of interviews with curious interrogator Rya Goodwin (Amanda Seyfried), Danny's life story unfolds, revealing elements of the mysterious past that shaped him, and the twists and turns that will lead him to a life-altering revelation. Hailing from Academy Award winner Akiva Goldsman, "The Crowded Room" is a coproduction between Apple Studios and New Regency.
6. Les Misérables (Netflix)
Synopsis: Hugh Jackman, Academy Award® winner Russell Crowe and Anne Hathaway star in this critically-acclaimed adaptation of the epic musical phenomenon. Set against the backdrop of 19th-century France, Les Misérables tells the story of ex-prisoner Jean Valjean (Jackman), hunted for decades by the ruthless policeman Javert (Crowe), after he breaks parole. When Valjean agrees to care for factory worker Fantine's (Hathaway) young daughter, Cosette, their lives change forever.
5. Big Love (Max)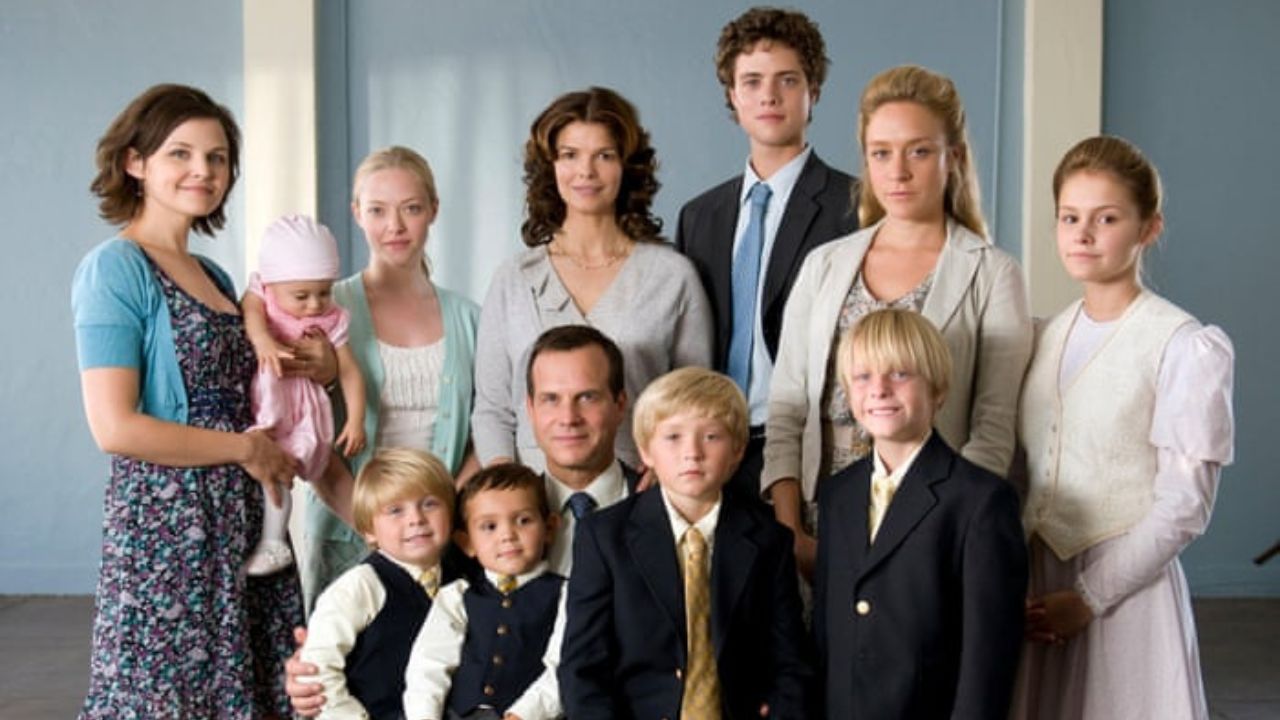 Synopsis: Polygamy loves company. This HBO drama series stars Bill Paxton as Bill Henrickson, a polygamist who faces a myriad of challenges in meeting the emotional, romantic and financial needs of his three wives and seven children as they live together in suburban Salt Lake City.
4. The Dropout (Hulu)
Synopsis: Money. Romance. Tragedy. Deception. Hulu's limited series "The Dropout," the story of Elizabeth Holmes (Amanda Seyfried) and Theranos, is an unbelievable tale of ambition and fame gone terribly wrong. How did the world's youngest self-made female billionaire lose it all in the blink of an eye?
3. Mean Girls (Netflix & Paramount+)
Synopsis: Synopsis: Teenager Cady Heron must assimilate into Girl World to survive high school life after joining a popular clique of girls dubbed "The Plastics." After she makes the mistake of falling for the Queen Bee Regina George's ex-boyfriend Aaron, Cady must reckon with the true nature of high school, popularity, love and friendship in a rapidly changing landscape.
2. First Reformed (Max)
Synopsis: Reverend Ernst Toller (Ethan Hawke) is a solitary, middle-aged parish pastor at a small Dutch Reform church in upstate New York on the cusp of celebrating its 250th anniversary. Once a stop on the Underground Railroad, the church is now a tourist attraction catering to a dwindling congregation, eclipsed by its nearby parent church, Abundant Life, with its state-of-the-art facilities and 5,000-strong flock. When a pregnant parishioner (Amanda Seyfried) asks Reverend Toller to counsel her husband, a radical environmentalist, the clergyman finds himself plunged into his own tormented past, and equally despairing future, until he finds redemption in an act of grandiose violence. From writer-director Paul Schrader (Taxi Driver; American Gigolo; Affliction) comes a gripping thriller about a crisis of faith that is at once personal, political, and planetary.
1. Mank (Netflix)
Synopsis: 1930s Hollywood is re-evaluated through the eyes of scathing social critic and alcoholic screenwriter Herman J. Mankiewicz as he races to finish the screenplay of Citizen Kane for Orson Welles.