My Hero Academia is one of the best anime series currently running before the masses because the superhero series blends the old tropes of the underdog getting mighty powers with brilliant storytelling set in some utopian future where 80% of the population has "quirks" (superpowers). The series follows Iziku Midoriya who doesn't have a quirk but he still wants to be a superhero and wants to get into the hardest superhero high school called UA. So, if you also liked the anime series My Hero Academia here are some more shows you could watch to pass the time and have some fun with brilliant animations.
Black Clover
Synopsis: In a world where magic is everything, Asta and Yuno are both found abandoned at a church on the same day. While Yuno is gifted with exceptional magical powers, Asta is the only one in this world without any. At the age of fifteen, both receive grimoires, magic books that amplify their holder's magic. Asta's is a rare Grimoire of Anti-Magic that negates and repels his opponent's spells. Being opposite but good rivals, Yuno and Asta are ready for the hardest of challenges to achieve their common dream: to be the Wizard King. Giving up is never an option!
Hunter X Hunter
Synopsis: Hunters are specialized in a wide variety of fields, ranging from treasure hunting to cooking. They have access to otherwise unavailable funds and information that allow them to pursue their dreams and interests. However, being a hunter is a special privilege, only attained by taking a deadly exam with an extremely low success rate. Gon Freecss, a 12-year-old boy with the hope of finding his missing father, sets out on a quest to take the Hunter Exam. Along the way, he picks up three companions who also aim to take the dangerous test: the revenge-seeking Kurapika, aspiring doctor Leorio Paladiknight, and a mischievous child the same age as Gon, Killua Zoldyck.
One Punch Man
Synopsis: Saitama only became a hero for fun, but after three years of "special" training, he finds that he can beat even the mightiest opponents with a single punch. Though he faces new enemies every day, it turns out being devastatingly powerful is actually kind of a bore. Can a hero be too strong?
Naruto
Synopsis: The Village Hidden in the Leaves is home to the stealthiest ninja in the land. But twelve years earlier, a fearsome Nine-tailed Fox terrorized the village before it was subdued and its spirit sealed within the body of a baby boy–Naruto Uzumaki!
Dragon Ball Z
Synopsis: Goku – the strongest fighter on the planet – is all that stands between humanity and villains from the darkest corners of space. Joined in battle by the Z-Fighters, Goku travels to distant realms in search of the magic powers of the seven Dragon Balls!
Fullmetal Alchemist: Brotherhood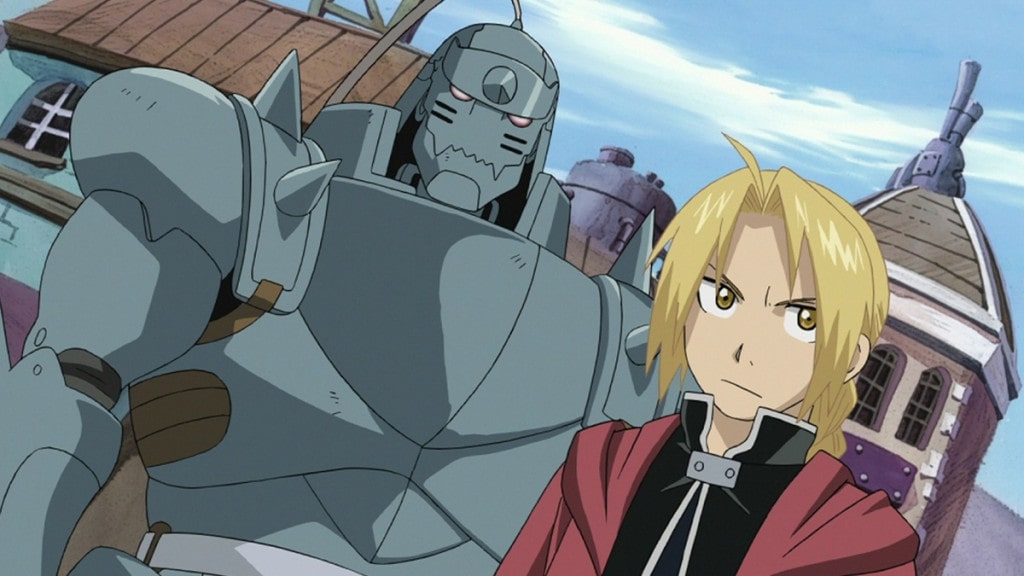 Synopsis: Brothers Edward and Alphonse Elric hoped to resurrect their mother's corpse when they attempted human transmutation, but their reckless defiance of alchemy's Law of Equivalent Exchange resulted in no miraculous reunion. Their experimentation with forbidden science plunged the boys into a hellish nightmare; half of Ed's limbs were torn from his body, and Al awoke to discover his young soul transferred to a suit of armor. There is but one way the Elrics can restore what was lost – find the fabled Philosopher's Stone. In a land marred by war and persecution, where truth comes only with tragedy, they undertake their desperate search. Every step closer to the mythical Philosopher's Stone brings the broken brothers deeper into the darkest shadows of reality. Sinful abominations, both unnatural and human, will try to keep the boys from their redemption – but the Elrics must forge ahead if despair is to be transmuted into peace.
Jujutsu Kaisen
Synopsis: Yuji Itadori is a boy with tremendous physical strength, though he lives a completely ordinary high school life. One day, to save a classmate who has been attacked by curses, he eats the finger of Ryomen Sukuna, taking the curse into his own soul. From then on, he shares one body with Ryomen Sukuna. Guided by the most powerful of sorcerers, Satoru Gojo, Itadori is admitted to Tokyo Jujutsu High School, an organization that fights the curses… and thus begins the heroic tale of a boy who became a curse to exorcise a curse, a life from which he could never turn back.
Little Witch Academia
Synopsis: Akko enrolls at the Luna Nova Witchcraft Academy. She's not the best student, but her bright attitude is the key to her and her friend's success.
JoJo's Bizzare Adventure
Synopsis: Based on author Hirohiko Araki's groundbreaking Shonen Jump manga series, JoJo's Bizarre Adventure follows the multigenerational tale of the heroic Joestar family and their never-ending battle against evil.
---
Also Read: Best Anime Shows Like 'Attack on Titan' To Watch If Loved the Series
---
Attack on Titan
Synopsis: From the director of Death Note comes Attack on Titan. Many years ago, humanity was forced to retreat behind the towering walls of a fortified city to escape the massive, man-eating Titans that roamed the land outside their fortress. This is their story.