Castlevania: Nocturne is a spin-off series of the hit series Castlevania. Created by Clive Bradley, the Netflix original series is based on a video game series of the same name. Castlevania: Nocturne is set in 1792, during the French Revolution and it follows the story of Richter Belmont, as he joins forces with hunters and magicians to prevent an apocalypse. So, if you love the Castlevania spin-off series here are some similar anime you could watch next.
Castlevania (Netflix)
Synopsis: Inspired by the computer game series of the same name, CASTLEVANIA is an animated series that centers on Vlad Dracula Tepe (Graham McTavish), who's attempting to wipe out humanity as retribution for the Church burning his wife Lisa (Emily Swallow) at the stake. It appears that no one can stop the hurricane of destruction that Dracula has unleashed upon 15th-century Eastern Europe. But vampire hunter Trevor Belmont (Richard Armitage), the last remaining member of a once-great family, is willing to try to stop Dracula and his demonic army. Along the way, Belmont meets a few allies, including sorceress Sypha (Alejandra Reynoso) and Dracula's renegade son Alucard (James Callis). The odds of success are long — but Belmont and his friends are the last forces standing between Europe and extinction.
Blood of Zeus (Netflix)
Synopsis: In a brewing war between the gods of Olympus and the titans, Heron, a commoner living on the outskirts of ancient Greece, becomes mankind's best hope of surviving an evil demon army, when he discovers the secrets of his past.
Dragon's Dogma (Netflix)
Synopsis: After being brought back to life as the "Arisen," one man must battle monsters representing the seven deadly sins as he seeks revenge on the dragon that stole his heart. This epic action-adventure story is reborn as an animated series!
Devilman Crybaby (Netflix)
Synopsis: To mark the 50th year of Go Nagai's career, his hit series "Devilman" returns as "Devilman Crybaby." Lauded as an "eternal masterpiece" that could never be completely recreated in moving images, the entirety of Devilman will finally be portrayed in Devilman Crybaby. The director is Masaaki Yuasa, the world-renowned creator known for his work on many high-quality titles such as "Ping Pong the Animation" and "Mind Game." The series also features a screenplay by Ichiro Okouchi and music by Kensuke Ushio. A team of Japan's top creators gathers to take on the anime adaptation of a legendary manga.
Synopsis: From the director of Death Note comes Attack on Titan. Many years ago, humanity was forced to retreat behind the towering walls of a fortified city to escape the massive, man-eating Titans that roamed the land outside their fortress. This is their story.
Fullmetal Alchemist: Brotherhood (Hulu & Crunchyroll)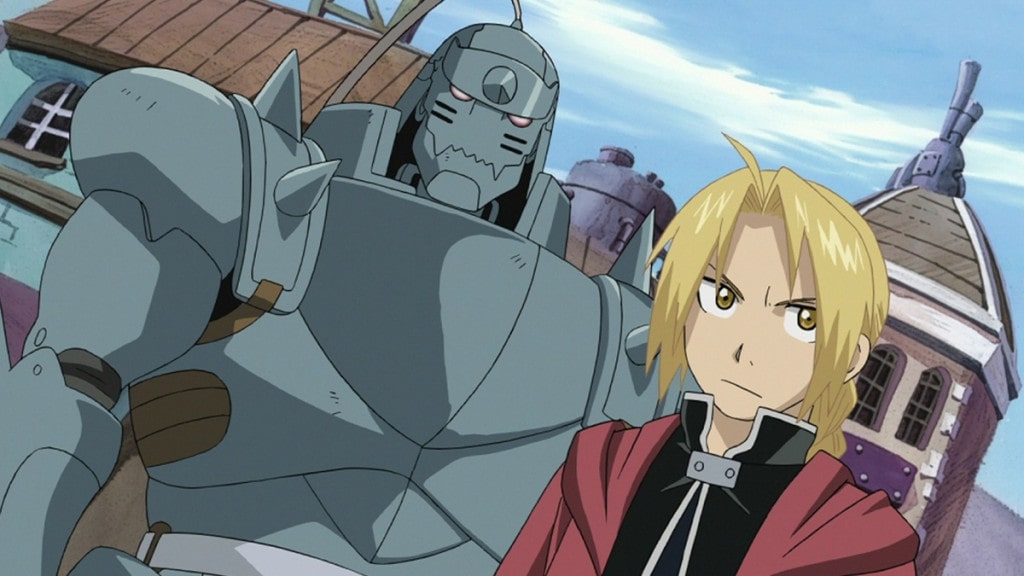 Synopsis: Brothers Edward and Alphonse Elric hoped to resurrect their mother's corpse when they attempted human transmutation, but their reckless defiance of alchemy's Law of Equivalent Exchange resulted in no miraculous reunion. Their experimentation with forbidden science plunged the boys into a hellish nightmare; half of Ed's limbs were torn from his body, and Al awoke to discover his young soul transferred to a suit of armor. There is but one way the Elrics can restore what was lost – find the fabled Philosopher's Stone. In a land marred by war and persecution, where truth comes only with tragedy, they undertake their desperate search. Every step closer to the mythical Philosopher's Stone brings the broken brothers deeper into the darkest shadows of reality. Sinful abominations, both unnatural and human, will try to keep the boys from their redemption – but the Elrics must forge ahead if despair is to be transmuted into peace.
DOTA: Dragon's Blood (Netflix)
Synopsis: The fantasy series tells the story of Davion, a renowned Dragon Knight devoted to wiping the scourge from the face of the world. Following encounters with a powerful, ancient eldwurm as well as the noble Princess Mirana on a secret mission of her own, Davion becomes embroiled in events much larger than he could have ever imagined. The series is based on the hugely successful global video-game franchise 'DOTA 2' by Valve.
Synopsis: Centuries ago, Armageddon cast darkness across the world. From that darkness, vampires emerged. Now there are two races, humans and vampires, trembling on the brink of war. Abel Nightroad is a Vatican priest and agent of AX, a special operations group that protects the fragile equilibrium between the two races. Neither human nor vampire, he uses his unique abilities to seek a safe path for all.
Mononoke (Netflix)
Synopsis: In feudal Japan, evil spirits known as mononoke plague both households and the countryside, leaving a trail of fear in their wake. One mysterious person has the power to slay the mononoke where they stand; he is known only as the Medicine Seller, and he vanquishes the spirits using the power of his Exorcism Sword. However, in order to draw his sword he must first understand the Form,Truth and Reason of the mononoke. Armed with a sharp wit and keen intellect, the Medicine Seller wanders from place to place, striking down the evil spirits in his wake.
Synopsis: With an eye cursed to see evil and blessed with an arm to slay demons, Exorcist Allen Walker is humanity's greatest hope against the cruel Akuma. They lurk in every shadow, eager to do the bidding of their leader, the Millennium Earl.