Animated shows are every kid's biggest source of entertainment but most adults don't watch animated unless its with their kids. So, today CinemaBlind is here to talk about some of the best animated shows any adult can watch without getting bored and definitely avoid watching them without their kids. So, here are the 10 best animated shows for adults.
---
Also Read: Shows Like 'BoJack Horseman' To Watch If You Miss the Series
---
BoJack Horseman (Netflix)
Synopsis: BoJack Horseman was created by Raphael Bob-Waksberg. The series is executive produced by Raphael Bob-Waksberg, Steven A. Cohen and Noel Bright. Will Arnett (Flaked, Arrested Development) and Aaron Paul (Breaking Bad) also serve as executive producers. BoJack was designed by graphic artist Lisa Hanawalt and animated by LA-based ShadowMachine. The show is a Tornante Production, brought to life by Michael Eisner's The Tornante Company.
---
Also Read: Shows Like 'Solar Opposites' To Watch While Waiting For Season 4
---
Solar Opposites (Hulu)
Synopsis: A team of four aliens escape their exploding home world only to crash land into a move-in ready home in suburban America. They are evenly split on whether Earth is awful or awesome. Korvo (Justin Roiland) and Yumyulack (Sean Giambrone) only see the pollution, crass consumerism, and human frailty while Terry (Thomas Middleditch) and Jesse (Mary Mack) love humans and all their TV, junk food and fun stuff. Their mission: protect the Pupa, a living super computer that will one day evolve into its true form, consume them and terraform the Earth.
---
Also Read: Dark Comedy Shows Like 'Rick and Morty' To Watch While Waiting For Season 7
---
Synopsis: After having been missing for nearly 20 years, Rick Sanchez suddenly arrives at daughter Beth's doorstep to move in with her and her family. Although Beth welcomes Rick into her home, her husband, Jerry, isn't as happy about the family reunion. Jerry is concerned about Rick, a sociopathic scientist, using the garage as his personal laboratory. In the lab, Rick works on a number of sci-fi gadgets, some of which could be considered dangerous. But that's not all Rick does that concerns Jerry. He also goes on adventures across the universe that often involve his grandchildren, Morty and Summer.
---
Also Read: Shows Like 'Archer' To Watch While Waiting For Season 14
---
Archer (Hulu)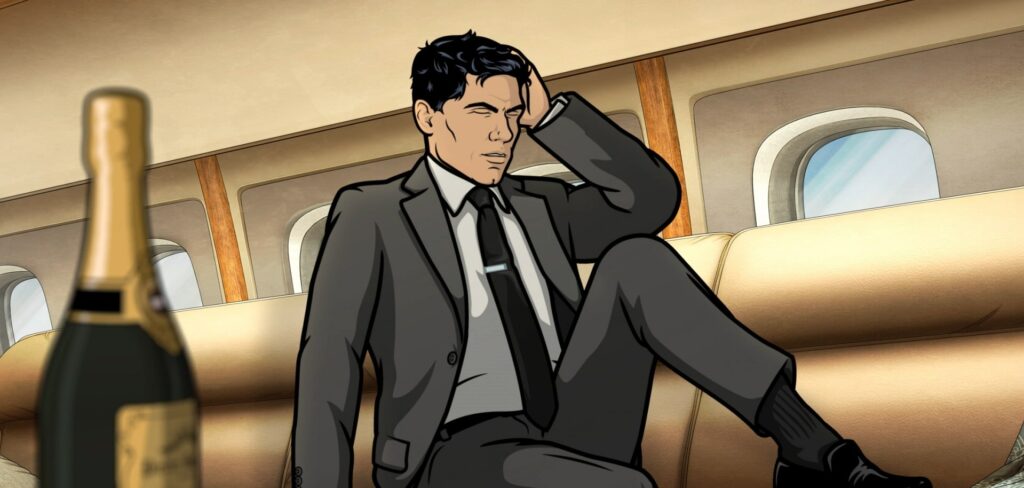 Synopsis: The suave, confident and devastatingly handsome Sterling Archer may be the world's greatest spy, but he still has issues with his friends and colleagues who live to undermine and betray one another. Whether set in 1940s Los Angeles, the jungles of South America or the dangerous islands of the South Pacific, "Archer," this animated comedy spans time and place to navigate Sterling, Lana, Malory, Cheryl/Carol/Charlotte, Cyril, Pam, Ray and Krieger's misguided misadventures that range from attempting to save the world from nuclear disaster to selling illegal narcotics to Colombian cartels.
The Venture Bros. (Hulu & HBO Max)
Synopsis: Two all-American teens spend most of their time hopping from one adventure to the next. Along with their caustic and self-centered father, Dr. Venture, the brothers have the uber-spy Brock Samson to protect them. Beset on all sides, the Venture Brothers do all they can just to make it out alive.
Family Guy (Hulu)
Synopsis: Peter Griffin is the father of this not-quite-so-average family unit of middle-class New Englanders. Lois is Peter's loving wife who struggles to maintain a modicum of normalcy in their home life.
---
Also Read: Shows Like 'Futurama' To Watch If You Miss the Original Series
---
Futurama (Hulu & Fubo TV)
Synopsis: While delivering pizza on New Year's Eve 1999, Philip J. Fry is accidentally cryonically frozen and thawed out one thousand years into the future. From the creator of "The Simpsons," "Futurama" is a sci-fi animated comedy.
Synopsis: Relive the dawn of the South Park era, with legendary episodes of the groundbreaking, Emmy Award-winning animated classic. Follow everyone's favorite troublemakers – Stan, Kyle, Cartman and Kenny – from the very beginning of their unforgettable adventures.
---
Also Read: Shows Like 'Big Mouth' To Watch If You Like the Series
---
Big Mouth (Netflix)
Synopsis: Big Mouth is a half-hour edgy adult animated comedy from real-life best friends Nick Kroll and Andrew Goldberg about the glorious nightmare that is teenaged puberty. Comedian John Mulaney lends his voice to the character of Andrew, while Kroll (who serves as co-creator, executive producer) voices many including best friend Nick. Maya Rudolph, Jason Mantzoukas, Jordan Peele, Fred Armisen, Jenny Slate and Jessi Klein are among those who lend their voice to the series.
---
Also Read: Mind-Bending Shows Like 'Love, Death & Robots' If You Already Binged Season 3
---
Love, Death & Robots (Netflix)
Synopsis: Emmy-winning animated anthology Love, Death + Robots executive produced by Tim Miller (Deadpool, Terminator: Dark Fate) and David Fincher (MINDHUNTER, Mank). Terror, imagination and beauty combine in new episodes which stretch from uncovering an ancient evil to a comedic apocalypse, telling startling short stories of fantasy, horror and science-fiction with trademark wit and visual invention.