The name Aaron Paul is still very much synonymous with Jesse Pinkman, but aside from Jesse, he has played many iconic characters in many brilliant shows and movies. Paul has done most of his work in Hollywood in TV shows, but he has worked in great movies. Paul is one of that actors that can actually make the character his own and then you know him by the name of that character. So, we are here to rank Aaron Paul's best movies and TV shows.
10. The Last House on the Left
Synopsis: Renowned horror director Wes Craven returns to the scene of the most notorious thrillers of all time in this darkly disturbing reimagining of The Last House on the Left. After kidnapping and ruthlessly assaulting two teen girls, a sadistic killer and his gang unknowingly find shelter from a storm at the home of one of the victim's parents — two ordinary people who will go to increasingly gruesome extremes to get revenge.
9. Need for Speed
Synopsis: In a near-impossible race against time, Tobey Marshall (Aaron Paul) sets out on a mission of revenge — but it proves to be one of loyalty and redemption. Hitting the road with the world's most exotic supercars that deliver real speed, real danger and real grit, Tobey pushes his limits to the max — no matter what the odds are. Adapted from the top-selling video game franchise — Need For Speed is an action-packed thrill ride.
8. The Parts You Lose
Synopsis: Wesley (Danny Murphy, Don't Make A Sound), a deaf boy in remote North Dakota, discovers a mysterious man (Aaron Paul, Breaking Bad) bleeding in a ditch. Unbeknownst to his parents (Mary Elizabeth Winstead, 10 Cloverfield Lane and Scoot McNairy, Once Upon a Time… in Hollywood) Wesley takes him home to recover, and the two develop an unusual bond. But when the stranger asks Wesley to help him with something far slipperier than healing, Wesley must question his newfound friend and grapple with his own, darker demons.
7. The Path
Synopsis: The Path follows a family at the center of a controversial cult movement as they struggle with relationships, faith and power. Each episode takes an in-depth look at the gravitational pull of belief and what it means to choose between the life we live and the life we want. The series blends elements of mystery-thriller, romance and the supernatural.
6. Eye in the Sky
Synopsis: Helen Mirren, Aaron Paul, Alan Rickman and Barkhad Abdi star in Eye in the Sky a contemporary international thriller set in the world of counter-intelligence and remote warfare. London-based military intelligence officer Colonel Katherine Powell (Helen Mirren) is remotely commanding a top secret drone operation to capture a group of dangerous terrorists from their safe-house in Nairobi, Kenya. The mission suddenly escalates from a "capture" to a "kill" operation as Powell realizes that the terrorists are about to embark on a deadly suicide mission. From his base in Nevada, American drone pilot Steve Watts (Aaron Paul) is poised to destroy the safe-house when a nine year old girl enters the kill zone just outside the walls of the house. With unforeseen collateral damage now entering the equation, the impossible decision of when to strike gets passed up the "kill chain" of politicians and lawyers as the seconds tick down.
5. Dual
Synopsis: Upon receiving a terminal diagnosis, Sarah opts for a cloning procedure to ease her loss on her friends and family. When she makes a sudden and miraculous recovery, her attempts to have her clone decommissioned fail and lead to a court-mandated duel to the death. Now she has one year to train her body and mind for the fight of her life.
4. Westworld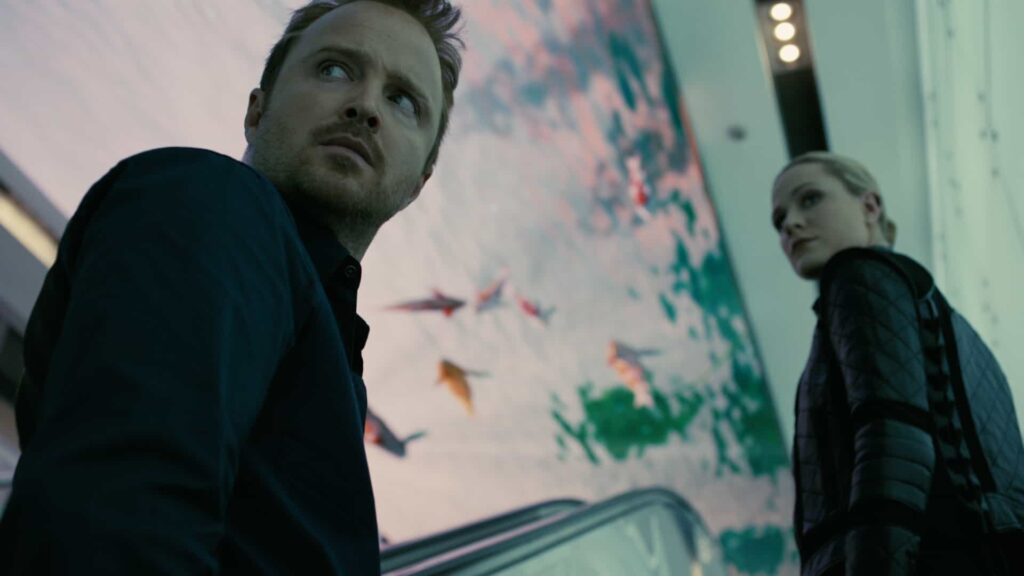 Synopsis: Have you ever questioned the nature of your reality? In this dark odyssey about the dawn of artificial consciousness and the future of sin, a malfunction creates havoc and terror for vacationers at a futuristic adult-themed amusement park for forbidden fantasies. Oscar winner Anthony Hopkins (The Silence of the Lambs, Amistad, Nixon) plays Dr. Robert Ford, the brilliant, taciturn and complex creative director, chief programmer and chairman of the board of Westworld, who has an uncompromising creative vision — and unorthodox methods of achieving it. Four-time Oscar nominee Ed Harris (Apollo 13, A Beautiful Mind) portrays The Man in Black, the distillation of pure villainy into one man. And Emmy Award winner Evan Rachel Wood (The Wrestler, True Blood) appears as Dolores Abernathy, the quintessential Western farm girl, who is about to discover that her entire idyllic existence is an elaborately constructed lie. Westworld is inspired by the film of the same name written and directed by Michael Crichton.
3. El Camino
Synopsis: The Netflix Television Event El Camino: A Breaking Bad Movie reunites fans with Jesse Pinkman (Emmy-winner Aaron Paul). In the wake of his dramatic escape from captivity, Jesse must come to terms with his past in order to forge some kind of future. This gripping thriller is written and directed by Vince Gilligan, the creator of Breaking Bad. The movie is produced by Mark Johnson, Melissa Bernstein, Charles Newirth, Diane Mercer, Vince Gilligan and Aaron Paul, in association with Sony Pictures Television.
2. BoJack Horseman
Synopsis: Netflix' first adult-oriented animated original series "BoJack Horseman." Meet the most beloved sitcom horse of the '90s – 20 years later. BoJack Horseman was the star of the hit TV show "Horsin' Around," but today he's washed up, living in Hollywood, complaining about everything, and wearing colorful sweaters. Voiced by Will Arnett, Aaron Paul, Patton Oswalt and Amy Sedaris.
1. Breaking Bad
Synopsis: Breaking Bad follows protagonist Walter White (Bryan Cranston), a chemistry teacher who lives in New Mexico with his wife (Anna Gunn) and teenage son (RJ Mitte) who has cerebral palsy. White is diagnosed with Stage III cancer and given a prognosis of two years left to live. With a new sense of fearlessness based on his medical prognosis, and a desire to secure his family's financial security, White chooses to enter a dangerous world of drugs and crime and ascends to power in the world. The series explores how a fatal diagnosis such as White's releases a typical man from the daily concerns and constraints of normal society and follows his transformation from mild family man to a kingpin of the drug trade.