2022 is about to end and with that we are making a list of the best and most brilliant movies that were released in the year 2022, but unfortunately no one is talking about them. So, in this list we are putting in the movies that should have gotten you attention way sooner.
Hatching (Hulu)
Synopsis: 12-year-old gymnast Tinja is desperate to please her image-obsessed mother, whose popular blog "Lovely Everyday Life" presents their family's idyllic existence as manicured suburban perfection. But one day, after finding a wounded bird in the woods, Tinja brings its strange egg home, nestles it in her bed, and nurtures it until it hatches. The creature that emerges becomes her closest friend and a living nightmare, plunging Tinja beneath the impeccable veneer into a twisted reality that her mother refuses to see.
Synopsis: Kunle (Donald Elise Watkins) and his best friend, Sean (RJ Cyler), are both seniors in college about to embark on an epic night of Spring Break parties. Sean has the whole night planned out, including every party they will hit on their "legendary tour." Kunle is down, yet mostly concerned with finishing up his mold experiment in his lab, as his acceptance to Princeton is hinging on the results. They return to their apartment to pre-game, yet find that their roommate, Carlos (Sebastian Chacon), left the door open. As they enter with trepidation, Sean and Kunle discover a drunk, semi-conscious White female they don't know on the floor and an oblivious Carlos, who didn't hear her come in over the videogame blaring in his ears. Kunle wants to call the cops but Sean vehemently opposes the idea concerned how it will look when the cops show up (two Black men, one Latino man and a passed out White woman). Together, Carlos, Sean and Kunle load the girl (who they nickname Goldilocks, but whose real name is Emma (Maddie Nichols) into Sean's van, with the intention of taking her somewhere safe rather than calling the police. Meanwhile, Emma's sister, Maddy (Sabrina Carpenter), has realized that Emma left the party they were at, and begins to search for her in a drunk panic using Emma's phone's location. What ensues is a chaotic, hilarious, and tension-filled chase all over town as our trio grapples with their differences while attempting to bring Emma to safety.
---
Also Read: Movies Like 'Triangle of Sadness' To Watch If You Liked the Dark Comedy
---
Synopsis: In Ruben Östlund's wickedly funny Palme d'Or winner, social hierarchy is turned upside down, revealing the tawdry relationship between power and beauty. Celebrity model couple, Carl (Harris Dickinson) and Yaya (Charlbi Dean), are invited on a luxury cruise for the uber-rich, helmed by an unhinged boat captain (Woody Harrelson). What first appeared instagrammable ends catastrophically, leaving the survivors stranded on a desert island and fighting for survival.
Synopsis: From a mountain peak in South Korea, a man plummets to his death. Did he jump, or was he pushed? When detective Hae-joon arrives on the scene, he begins to suspect the dead man's wife Seo-rae. But as he digs deeper into the investigation, he finds himself trapped in a web of deception and desire.
Synopsis: Enter the relentless pressure of a restaurant kitchen as a head chef (Stephen Graham) wrangles his team on the year's busiest day.
---
Also Read: Dark Comedy Movies Like 'The Banshees of Inisherin' To Watch If You Liked the Film
---
The Banshees of Inisherin (Stream on HBO Max From Dec. 13)
Synopsis: Set on an island off the west coast of Ireland, The Banshees of Inisherin follows two lifelong friends, Pàdraic (Colin Farrell) and Colm (Brendan Gleeson), who find themselves at an impasse when Colm abruptly decides to end their friendship. With the support of his sister Siobhan (Kerry Condon), who along with the local policeman's son Dominic (Barry Keoghan) has her own qualms within the small island community, a confused and devastated Pàdraic attempts to reignite their relationship. But when Colm delivers a shocking ultimatum in order to crystalize his intention, events start to escalate to fractious heights.
Synopsis: Official Selection, Sundance Film Festival 2022. One family accepts an invitation to the rural home of another they met on holiday, only to find their lives altered in unexpected, deeply horrifying way. Directed by Christian Tafdrup.
Aftersun (Not Available on Streaming Yet)
Synopsis: At a fading vacation resort, 11-year-old Sophie treasures rare time together with her loving and idealistic father, Calum (Paul Mescal). As a world of adolescence creeps into view, beyond her eye Calum struggles under the weight of life outside of fatherhood. Twenty years later, Sophie's tender recollections of their last holiday become a powerful and heartrending portrait of their relationship, as she tries to reconcile the father she knew with the man she didn't, in Charlotte Wells' superb and searingly emotional debut film.
---
Also Read: Movies Like 'After Yang' About Artificial Intelligence
---
Synopsis: When his young daughter's beloved companion — an android named Yang — malfunctions, Jake (Colin Farrell) searches for a way to repair him. In the process, Jake discovers the life that has been passing in front of him, reconnecting with his wife (Jodie Turner-Smith) and daughter across a distance he didn't know was there.
The Fallout (HBO Max)
Synopsis: Bolstered by new friendships forged under sudden and tragic circumstances, high schooler Vada (Jenna Ortega) begins to reinvent herself, while re-evaluating her relationships with her family, friends and her view of the world. Moving away from her comfortable family routine, she starts taking chances with a series of quicksilver decisions that test her own boundaries and push her in new directions. As she spends more time with Mia (Maddie Ziegler), they grow closer, and Vada slowly redefines herself through their shared experiences, leading her further away from that day and closer to living her life in the now.
Apollo 10½: A Space Age Childhood (Netflix)
Synopsis: Apollo 10 ½: A Space Age Childhood tells the story of the first moon landing in the summer of 1969 from two interwoven perspectives – the astronaut and mission control view of the triumphant moment, and through the eyes of a kid growing up in Houston, Texas who has intergalactic dreams of his own. Taking inspiration from Academy Award-nominated® filmmaker Richard Linklater's own life, Apollo 10 ½: A Space Age Childhood is a snapshot of American life in the 1960s that is part coming of age, part societal commentary, and part out-of-this-world adventure.
Synopsis: Fresh follows Noa (Daisy Edgar-Jones), who meets the alluring Steve (Sebastian Stan) at a grocery store and – given her frustration with dating apps – takes a chance and gives him her number. After their first date, Noa is smitten and accepts Steve's invitation to a romantic weekend getaway. Only to find that her new paramour has been hiding some unusual appetites.
Synopsis: Dr Alithea Binnie (Tilda Swinton) is an academic…a creature of reason. While in Istanbul, she happens to encounter a Djinn (Idris Elba) who offers her three wishes in exchange for his freedom. At first, she doubts that he is real and she knows all the cautionary tales of wishes gone wrong. But the Djinn pleads his case, and eventually she is beguiled and makes a wish that surprises them both!
Synopsis: Clock back into the Clerks universe for writer-director Kevin Smith's third entry of his iconic comedy series. Once again behind the counter of Quick Stop, Dante (Brian O'Halloran) and Randal (Jeff Anderson) are still hanging out with Jay and Silent Bob (Jason Mewes, Kevin Smith), handling quirky customers, and sneaking off for rooftop hockey. But after Randal has a heart attack, he's determined to make something of his slacker life – by shooting a movie about it! Featuring Rosario Dawson, a host of celebrity cameos, and Smith's signature humor, Clerks III is a hilarious and nostalgic capstone to the Clerks legacy – nearly thirty years in the making.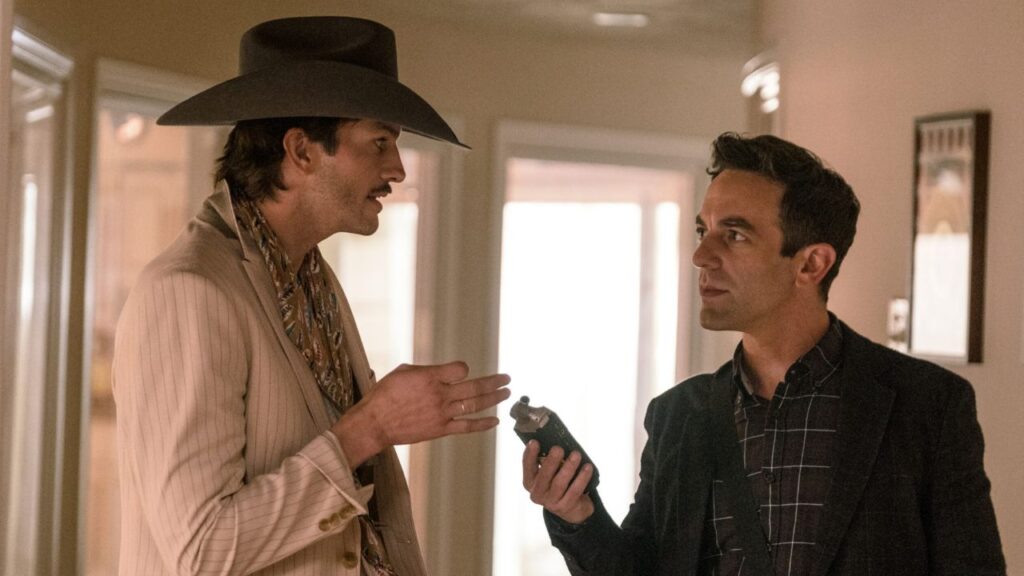 Synopsis: VENGEANCE, the directorial debut from writer and star B.J. Novak ("The Office"), is a darkly comic thriller about Ben Manalowitz, a journalist and podcaster who travels from New York City to West Texas to investigate the death of a girl he was hooking up with. With an ensemble cast that includes Issa Rae, Ashton Kutcher, Boyd Holbrook, J. Smith-Cameron, and Dove Cameron.