There's no shortage of fans of the Award winning comedy series Schitt's Creek, mainly because it was a brilliant piece of television with a very intriguing and charismatic leading cast played to perfection by Daniel Levy, Eugene Levy, Annie Murphy, and Catherine O'Hara. Schitt's Creek's latest season was its sixth and final season which aired in 2020 with fourteen episodes and after that the cast and creators took a bow and said goodbye to the fans just like Brooklyn Nine-Nine is about to do after its eighth season. So, we thought we should make a list of TV shows to watch if you loved Schitt's Creek.
Schitt's Creek – Plot?
Suddenly broke, the formerly filthy-rich Rose family is reduced to living in a ramshackle motel in a town they once bought as a joke: Schitt's Creek.
The TV shows on this list are not ranked because we think every one of these are worth your time, and will keep you entertained.
Raising Hope (2010-2014)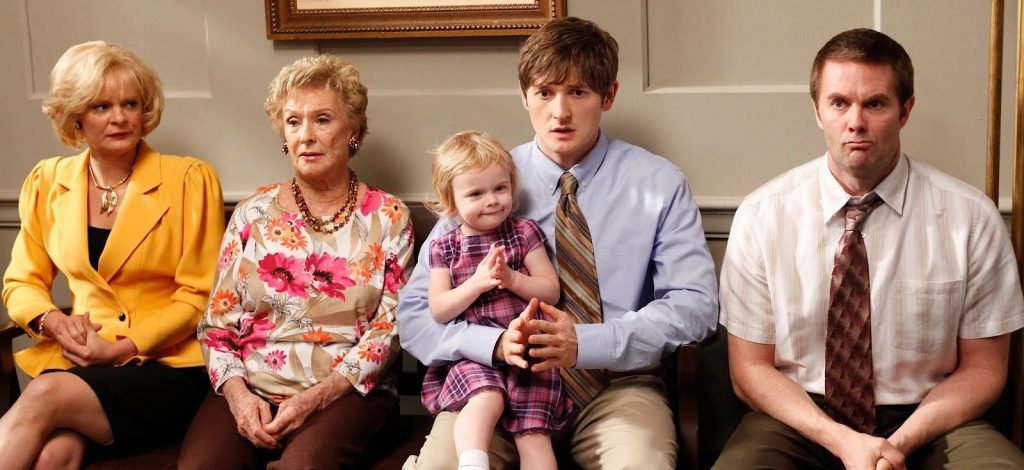 Synopsis: Raising Hope is a family comedy from Emmy Award winner Greg Garcia (My Name Is Earl) that follows the Chance family as they find themselves adding an unexpected new member into their household.
Superstore (2015-2021)
Synopsis: "Superstore" is a hilarious workplace comedy about a unique family of employees at big box megastore Cloud 9. At the center is Jonah (Ben Feldman), a passionate optimist always looking out for his co-workers, including the sardonic Garrett (Colton Dunn), the sweet and fun-loving Cheyenne (Nichole Sakura) and the perpetually dismissed Sandra (Kaliko Kauahi). Back in the manager job is Glenn (Mark McKinney), who once again finds himself butting heads with aggressive assistant manager Dina (Lauren Ash), but is now assisted by Mateo (Nico Santos), who's pretty sure he would be running things by now if it weren't for his undocumented status.
Grace & Frankie (2015-Present)
Synopsis: From the co-creator of Friends, Netflix original comedy GRACE AND FRANKIE stars Jane Fonda and Lily Tomlin as two women who form an unlikely bond after their husbands reveal they are gay and leave them for each other.
Derry Girls (2018-Present)
Synopsis: Amidst the political conflict of Northern Ireland in the 1990s, five high school students square off with the universal challenges of being a teenager.
Episodes (2011-2017)
Synopsis: Matt LeBlanc stars as Matt LeBlanc in Episodes, the hilarious comedy series about remaking a comedy series. When husband and wife writing team Sean and Beverly set out to reproduce their British TV hit for an American network, all of their worst fears come true as Hollywood lives up to its reputation for absurdity. Not only does the network cast Matt LeBlanc in the starring role, but Matt takes the lead in deviously twisting their beloved series into a terrible cliché, while testing the couple's marriage with diversions and temptations.
Arrested Development (2003-2019)
Synopsis: Holding the Bluths together just barely is son Michael Bluth (Jason Bateman), the only normal guy in a family that's chock full of nuts. Hardworking and sensible, Michael's certain he's going to be given control of his family's Enron-style corporation upon the retirement of his father (Jeffrey Tambor). The fact that he's passed over instead for his mother (Jessica Walter) is only a blip when compared to his father's immediate arrest for dubious accounting practices, and the resulting freeze on the family's previously limitless wealth.
Bereft of money, and even less family love, the Bluths have to band together in their moment of need–not easy when everyone's looking out for number 1. In addition to his scabrous parents, Michael has to contend with his lothario older brother (Will Arnett), his basically useless younger brother (Tony Hale), his greedy twin sister (Portia DeRossi), and her sexually ambiguous husband (David Cross). Michael's only comrade in sanity is his son George Michael (Michael Cera), but then again, the teenage boy harbors a secret crush on his cousin (Alia Shawkat).
One Day at a Time (2017-2020)
Synopsis: In a reimagining of the TV classic, a newly single Latina mother raises her teen daughter and tween son with the "help" of her old-school mom.
Sex Education (2019-Present)
Synopsis: Insecure Otis has all the answers when it comes to sex advice, thanks to his therapist mom. So rebel Maeve proposes a school sex-therapy clinic.
Workin' Moms (2017-Present)
Synopsis: Maternity leave is over and it's time for these four moms to return to work while navigating kids, bosses, love and life in modern-day Toronto.
Shrill (2019-2021)
Synopsis: From Executive Producers Lorne Michaels and Elizabeth Banks comes Shrill, a comedy series starring Aidy Bryant (Saturday Night Live) as Annie, a fat young woman who wants to change her life — but not her body. Annie is trying to start her career while juggling bad boyfriends, a sick parent, and a perfectionist boss.
---
This concludes the list of the best 10 TV shows to watch if you loved Schitt's Creek. If you have watched them all tell us in the comments we will make a new list for you and if you haven't, What are you waiting for?
You can Subscribe to our Newsstand on Google News, Click the below Button
Subscribe Now