The popular ABC mystery-thriller series Manifest is still in everybody's mind because of its great first three seasons and its controversial cancellation by ABC. Fans signed petitions for the series to be revived and the creators and companies that produced the series have heard them because Manifest Season 4 is coming to Netflix.
Manifest (Synopsis): Over a year has passed since the miraculous homecoming of Flight 828 and the discovery of others who have mysteriously returned. While the Stone family endeavors to keep their friends safe and make their enemies believe the unbelievable, new challenges will test their trust of the callings and each other. But sticking together is more important than ever, because no matter what happens, it's all connected.
The TV shows on this list are not ranked.
Fringe
Synopsis: J.J. Abrams, the creator of Lost and Alias, teams up with Roberto Orci and Alex Kurtzman (Mission: Impossible 3, Transformers) to create this highly anticipated drama series. Featuring Australian newcomer Anna Torv, Dawson's Creek's Josh Jackson, John Noble and Lance Reddick, the first electrifying season of Fringe follows an unlikely trio who uncover a deadly mystery that may be part of a larger and more disturbing pattern that lives somewhere between science fiction and reality. As the season begins, FBI Special Agent Olivia Dunham (Torv) is called in to investigate a mysterious outbreak that nearly kills her partner. The only person with any answers is an institutionalized scientist, Dr. Walter Bishop (Noble) who can only be released under the care of his estranged son (Jackson). Together, the three discover that the answer to this mystery is only a small piece of a much larger, more shocking truth.
Under The Dome
Synopsis: Under the Dome, based on Stephen King's bestselling novel, tells the story of a small town that is suddenly and inexplicably sealed off from the rest of the world by an enormous transparent dome. In the weeks following the Dome's descent on the sleepy town of Chester's Mill, the inhabitants have been forced to adapt. Combating Dome- and man-made threats daily, the community rises to new heights of ingenuity, courage, and, for some, darkness, in order to survive their post-apocalyptic isolation. Just as the town's quest for answers reveals a seemingly viable path to freedom, everything the residents think they know about the Dome and its motivations is turned upside down. Again facing an uncertain future, the citizens of Chester's Mill begin to realize their true destiny as the Dome reveals more of its ultimate agenda for them. As new dangers emerge, battle lines are drawn that will alter relationships in ways none of them could imagine. For this town, the true threat to the human spirit's resilience is no longer just the invisible dome that has cut them off from civilization—but it is the enemy within. Starring Mike Vogel, Rachelle Lefevre, Dean Norris, Natalie Martinez, Britt Robertson, Alexander Koch, Colin Ford, Nicholas Strong, Jolene Purdy, and Aisha Hinds, the epic story of a town in peril unfolds as the residents struggle to maintain control and ultimately figure out the truth about the dome.
Travelers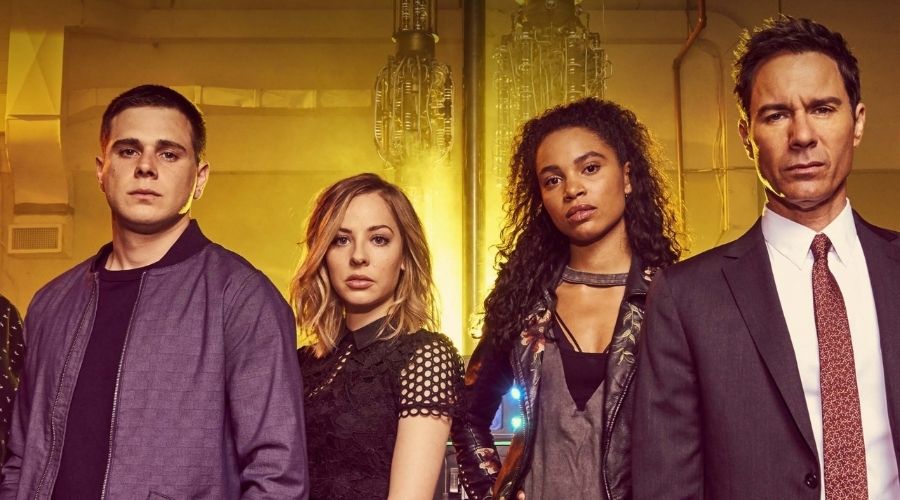 Synopsis: Hundreds of years from now, the last surviving humans discover the means of sending consciousness back through time, directly into people in the 21st century. These "travelers" assume the lives of seemingly random people, while secretly working as teams to perform missions in order to save humanity from a terrible future. These travelers are: FBI Special Agent Grant MacLaren (Eric McCormack), the team's leader; Marcy (Mackenzie Porter), a young, intellectually disabled woman in the care of her social worker, David (Patrick Gilmore); Trevor (Jared Paul Abrahamson), a high school quarterback; Carly (Nesta Marlee Cooper), a single mom in an abusive relationship; and Philip (Reilly Dolman), a heroin-addicted college student. Armed only with their knowledge of history and an archive of social media profiles, the travelers discover that 21st century lives and relationships are as much a challenge as their high-stakes missions.
---
---
The OA
Synopsis: From Brit Marling and Zal Batmanglij, the visionary filmmakers behind Sound of My Voice and The East, comes a powerful, mind-bending tale about identity, human connection and the borders between life and death. The Netflix original series The OA is an odyssey in eight chapters produced in partnership with Plan B Entertainment, Netflix and Anonymous Content. The groundbreaking series offers audiences a singular experience that upends notions about what long-format stories can be.
Erased
Synopsis: After finding his mom killed, Satoru's time-traveling ability takes him back 18 years for a chance to prevent her death and those of three classmates.
Sense8
Synopsis: One moment links 8 minds in disparate parts of the world, putting 8 strangers in each other's lives, each other's secrets, and in terrible danger. From the unparalleled creative minds of The Wachowskis ("The Matrix" trilogy, "Cloud Atlas") and J. Michael Straczynski (Clint Eastwood's "Changeling," "World War Z"), as well as Grant Hill ("The Matrix" trilogy, "Cloud Atlas").
---
---
Dark
Synopsis: Dark is set in a German town in present day where the disappearance of two young children exposes the double lives and fractured relationships among four families. In ten, hour-long episodes, the story takes on a supernatural twist that ties back to the same town in 1986. The series is created by award-winning showrunners Baran bo Odar and Jantje Friese, who previously received critical acclaim for their movie Who am I (2014).
The Leftovers
Synopsis: It has been called 'The Departure': a stunning global event in which more than 140 million people simply vanished. From 'Lost' co-creator Damon Lindelof and author Tom Perrotta (on whose bestseller this is based) comes this epic drama series that focuses on the 'leftovers' of the town of Mapleton as they react to this inexplicable event three years later.
The Wilds
Synopsis: A group of teen girls from different backgrounds must fight for survival after a plane crash strands them on a deserted island. The castaways both clash and bond as they learn more about each other, the secrets they keep, and the traumas they've all endured. There's just one twist to this thrilling drama… these girls did not end up on this island by accident.
12 Monkeys
Synopsis: The show follows the journey of a time traveler, Cole, from the post-apocalyptic future. Using a dangerous and untested method of time travel, Cole arrives in the present day on a mission to locate and eradicate the source of a deadly plague that will eventually decimate 93.6% of the human race.
---
This concludes the list of the best 10 TV shows like Manifest you can watch right now. So, if you have watched them tell us in the comments and we will make a new list for you, and if you haven't what are you waiting for.