Sitcoms are like a cup of hot chocolate on a chilly night, but they get greater if you can watch it again and laugh as much as you laughed the first time you watched it. So, here we are making a list of the 10 most re-watchable sitcoms for you to enjoy.
Bojack Horseman
Synopsis: Meet the most beloved sitcom horse of the '90s, 20 years later. He's a curmudgeon with a heart of…not quite gold…but something like gold. Copper?
Seinfeld
Synopsis: Seinfeld stars Jerry Seinfeld as a stand-up comedian whose life in New York City is made even more chaotic by his quirky group of friends who join him in wrestling with life's most perplexing, yet often trivial questions. Often described as "a show about nothing," Seinfeld mines the humor in life's mundane situations like waiting in line, searching for a lost item, or the trials and tribulations of dating. Co-starring are Julia Louis-Dreyfus as Jerry's ex-girlfriend and current platonic pal, Elaine Benes; Jason Alexander as George Costanza, Jerry's neurotic hard-luck best friend; and Michael Richards as Jerry's eccentric neighbor, Kramer.
It's Always Sunny In Philadelphia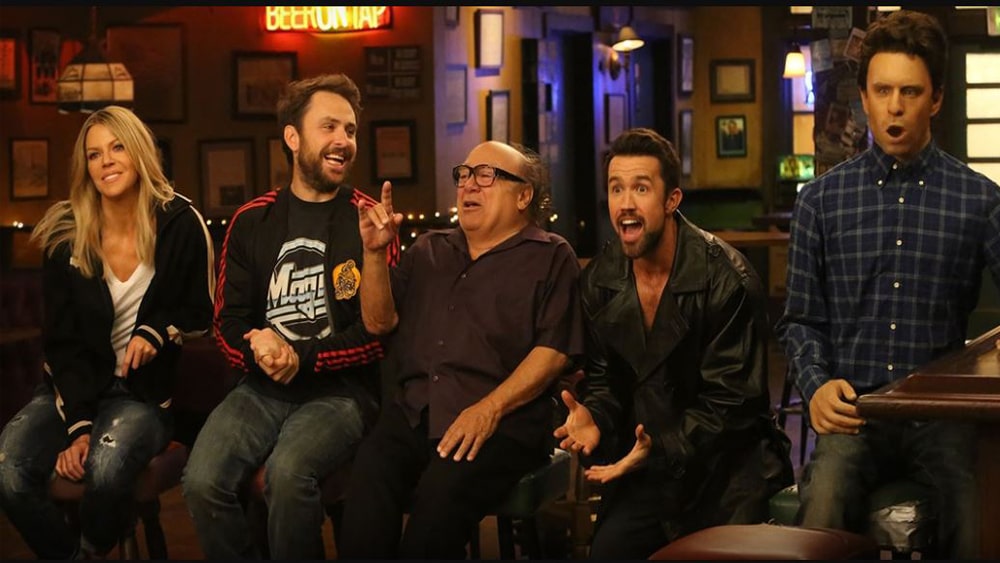 Synopsis: It's Always Sunny in Philadelphia features Mac, Dennis, Charlie, Sweet Dee and Frank, five ne'er-do-wells who own and operate Paddy's Pub in Philadelphia. Their constant scheming usually lands them in a world of hurt, yet they never seem to learn from their mistakes. As they say, some things never change. So prepare for more depraved schemes, half-baked arguments, and absurdly underhanded plots to subvert one another.
South Park
Synopsis: Relive the dawn of the South Park era, with legendary episodes of the groundbreaking, Emmy Award-winning animated classic. Follow everyone's favorite troublemakers – Stan, Kyle, Cartman and Kenny – from the very beginning of their unforgettable adventures.
The Simpsons
Synopsis: This long-running animated comedy focuses on the eponymous family in the town of Springfield in an unnamed U.S. state. The head of the Simpson family, Homer, is not a typical family man. A nuclear-plant employee, he does his best to lead his family but often finds that they are leading him. The family includes loving, blue-haired matriarch Marge, troublemaking son Bart, overachieving daughter Lisa and baby Maggie. Other Springfield residents include the family's religious neighbor, Ned Flanders, family physician Dr. Hibbert, Moe the bartender and police chief Clancy Wiggum.
Peep Show
Synopsis: Peep Show is a brand-new narrative comedy series seen through the eyes of the core characters. And in another inventive twist, each character's inner thoughts can be heard – whether they be dark, stupid or embarrassingly overblown. At the center of Peep Show are Mark and Jeremy, who have an unhealthy reliance on one another – a dependence that can turn to frustration. Mark – in his cack-handed way – is in pursuit of the love of his life, co-worker Sophie (Olivia Colman), while Jeremy lives in awe of his idiotic and manipulative mate Superhans and their beautiful but brittle neighbor Toni.
The Office
Synopsis: Dunder Mufflin Regional Manager Michael Scott (Steve Carell) leads the documentary team and his staff on a journey through inappropriate behavior, well-intentioned but misguided comments and a myriad of poor management techniques.
Curb Your Enthusiasm
Synopsis: Larry David has it all–so why does he seem intent on making a mess of his life? Larry David stars as…Larry David in this acclaimed verite-style comedy series that follows him at home, at work and around town, as he lands himself in various predicaments with both fictional and real-life personalities. Jeff Garlin and Cheryl Hines co-star.
Modern Family
Synopsis: Today's American families come in all shapes and sizes. The cookie cutter mold of man + wife + 2.5 kids is a thing of the past, as it becomes quickly apparent in the bird's eye view of ABC's half-hour comedy, which takes an honest and often hilarious look at the composition and complexity of modern family life.
Arrested Development
Synopsis: In this critically acclaimed series, Michael Bluth is forced to help his wildly eccentric family pick up the pieces after its wealthy patriarch is arrested and its assets frozen.
---
This concludes the list of the 10 most re-watchable sitcoms you can watch right now. If you have watched them all tell us in the comments we will make a new list for you and if you haven't, What are you waiting for?